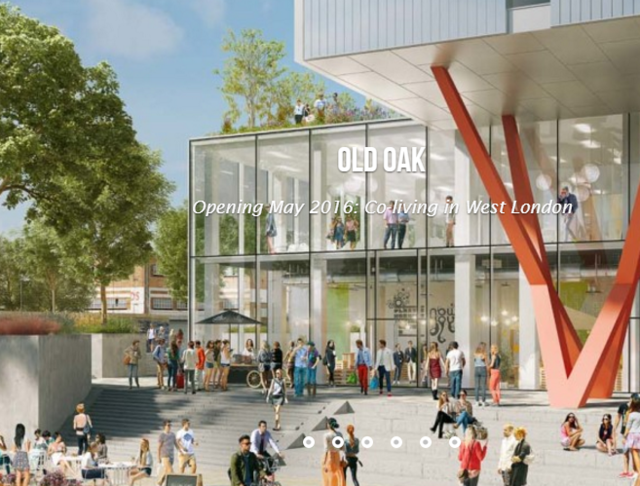 London Co-living Project Pushes Shared Space into new Territory
Shared space is nothing new, but build building an intentional community is often a step beyond what is currently achieved by standard accommodation complexes.
---
"London is in the midst of a housing crisis, with rising rents making once affordable areas of the city completely out of reach for young professionals. Hoping to provide a solution, property startup The Collective is set to launch its Old Oak property in May 2016. The 12,000 square feet of shared living space, in a converted, abandoned office building, is a huge experiment in co-living. Residents will have a private bedroom, bathroom and kitchenette, but will share many of the amenity spaces with hundreds of flatmates: the idea is to strike a balance between private space and a sense of community.
The property initiative aims to provide an alternative to ever-shrinking flats in the city or rooms, especially in illegally converted houses. Residents will have access to shared spaces, including a secret garden, kitchens, a cinema room, a spa and gym, and a games room. There are also dining rooms, which residents can rent out for when they want to entertain. Residents pay an all-inclusive monthly rent starting from GBP 1000, which includes bills, wi-fi, weekly room cleaning and linen changes.
How else can developers rethink conventional living spaces, to adapt to rising rents and overpopulation?" Source: Springwise.com
Website: www.thecollective.co.uk
---
Redefine your industry boundaries and create new markets
The Collective already have x4 accommodation units spread across London. Meaning that this project is most likely a strategic move with proven demand. Does your business have potential to redefine your industry boundaries and create new markets? If you are interested in exploring the strategic potential of your business or market get in touch with our team, we look forward to hearing from you.
Posted: Fri 18 Dec 2015