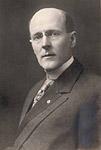 Above: Paul Harris - Founder of Rotary
Right: Lindsay Dey
Paul Harris Fellowship Citation: Lindsay Dey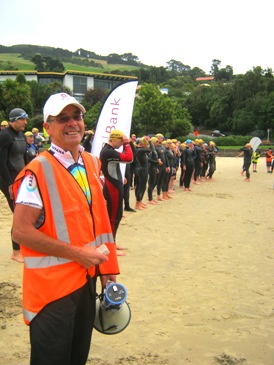 29 June 2011
There is a common thread in this person's contribution to the community. A love of sport. Not only a very successful sportsperson himself, he has given his time freely over many years to many sports and helped developed many young sports people in Otago and New Zealand.
But it's not all about sport. As a practising accountant he has shown the same attributes to his clients, his profession ( including local Branch Chairperson) and to his community. This is best reflected in his long serving contribution as a member of the Selwyn College Board and on an advisory committee for Business Studies at the Otago Polytechnic – both activities where he has made a sustained contribution over 20 years.
He has also achieved the ultimate goal of marrying his passion with his business and as part of his accountancy practice now has a sports consultancy practice that assists in the developemnt and establishment of new facilities but also promotes the embellishment of best practice that he promotes to his business clients to the not for profit sector.
In this club he has held a wide variety of roles since he joined in 1990 and was Club President in 2001-02.
The common thread between his sport and community interests is that most of what he does is voluntary and in everything he does he is a serious overachiever.
Lindsay Dey's standards begin as a determined competitor and his achievements include:
A silver medal in the 5000m at the NZ Athletics Champs, 1971;
NZ University Cross Country Champion – 1969;
NZ University Cross Country Team – Australia - 2nd Australasian Champs 1969;
NZ University 5,000 and 10,000m champion – 1970/1971;
Competed in the World Duathlon Age Group Championships – 3 times between 2003-2010;
Competed in the World Triathlon Age Group Championships – 3 times between 2003-2010;
Coast to Coast Veteran Team medallist for 3 years;
Member of the veteran team that won the Gold Rush around 2001;
Has won 12 Masters' Games Medals between 1986-2010 in duathlon, triathlon, and multisport events;
Has run 13 marathons between 1975 and 1990 – taking 2nd place in the round the harbour the first year it was held; and
Last year he was first in his age group in the Wanaka Challenge Half Ironman.
Over this time he has progressed from a fanactical runner, to an international athlete who can now also swim and ride a bike!
His success on the track, road, across mountains and waterways and on the sports field are equally matched as a coach and administrator. Just some of his accomplishments and contributions include:
Coach:
Caversham Harriers – 10 years
Otago University Harriers – 10 years
St Hilda's Harriers – 18 years - current
St Hilda's Hockey – 3-4 years
Otago University Women's Hockey – 1 year
Administrator:
Sports Medicine:
Otago Branch Secretary/Treasurer – 1980's;
NZ Sports Medicine – first executive director;
Held national office for about 10 years from 1983.
Sport Otago:
Foundation Secretary,
Trustee for over 20 years,
Chairman for six years.
In his role with Sport Otago and its predecessor Lindsay has played a leading role in first establishing the first regional sporting organisation and then remodelling the platform which defines the strategic and operational standards upon which most regional sporting bodies throughout the country are now based. It is in this role that his contribution to our community – be it sporting groups, schools, recreation orgainations, local bodies – has had its greatest impact.
Lindsay is currently president of the Otago Triathlon Club, manager of the Otago Triathlon Academy and has been a member of that club for 20 years; and in 2000 had the privilege of running with the Olympic torch.
It is my pleasure to present Lindsay with a Paul Harris Fellowship tonight, in recognition of his huge and ongoing contribution to sport, the community, business and the Rotary Club of Dunedin South.
Posted: Wed 13 Jul 2011