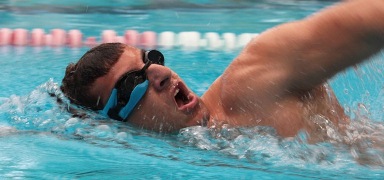 Goggle-mounted swim monitor gives real-time feedback to swimmers
At the top end technology can significantly aid in getting the best possible results. This is true in both business and sport.
A recent innovation in the sporting sector:
Electronics and watersports don't tend to go hand-in-hand – however, Instabeat is a waterproof display for goggles that measures swimming performance and provides feedback.
Where some swimmers may opt for a chest device that can monitor the user's heartbeat, the Instabeat clips onto any pair of goggles and senses beats per minute from the temporal artery. Coloured LEDs on the device let swimmers know how hard they're working – blue for fat burning, green for fitness workouts and red for maximum performance. Instabeat also measures calories burnt and lap times, alerting users to when they're close to reaching their targets as they swim. Once out of the pool, the headset can be connected to a computer via USB to upload the data for storing. The video above offers more information about the Instabeat.
Source: Springwise
Business:
I'm not sure if the most recent technological innovation in the swimming sector will catch on in the short term, but if successful it definitely has scope to help athletes improve their performance.
In the business sector at present there are a number of innovations which are making real progress in simplifying processes and helping grow business. If you are interested in reducing your paper work and getting more usable info from your business financial info please get in touch via our contact page or phone me on 477 8777. Look forward to hearing from you.
Regards, Lindsay.
Posted: Thu 20 Jun 2013