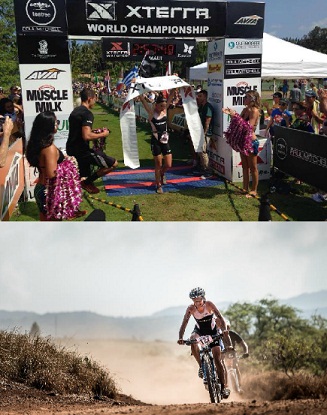 Nicky Samuels - World Champ
The Xterra races are some of the toughest triathlon events in the world. The Xterra World Championships in Maui, Hawaii were no exception.
This is a tough event and the Maui course was a brutally tough course. With the combination of little wind, hot humid temperatures (30 DegC), dry dusty and sandy terrain it just adds to the 1.5km swim, 30km mountain bike and 10km run.
After a tough race our very own Nicky Samuels was crowned World Champion. See her full blog post below.
Ps. If feeling inspired after reading this you may wish to start with something slightly more manageable and try out some of our local events with the Dunedin Triathlon and Multisport Club.
---
BELOW: NICKY'S FULL BLOG ENTRY
2013 Xterra World Champion!!
Hi all, a quick update from the airport in Honolulu. For those who did not get the chance to follow the race in the weekend I just raced the Xterra World Championships in Maui, Hawaii and surprised myself to be crowned the new Xterra World Champion - the perfect way to finish a solid season of racing!
For those who race Xterra races, I give you a lot of respect. This is a tough event and the Maui course was a brutally tough course. With the combination of little wind, hot humid temperatures (30 DegC), dry dusty and sandy terrain it just adds to the 1.5km swim, 30km mountain bike and 10km run.
I came into this race with a big question mark over the bike section... I know that I can swim well, I love running on challenging off road courses but with my lack of time on the mountain bike I was concerned with how my technical skills would stack up.
This year I travelled for 5 months with my Giant TCR Roadie and my Giant Advanced TT bike so there was no room for a third bike. This meant that as soon as I got back from London World Series Final (late Sept) I had a quick break (to try and freshen up) and then had 3 weeks to learn how to ride a mountain bike! Time was short so I was on the MTB bike 4 times a week and the TT bike twice to try and maintain things for Noosa as well.
There is only so much you can do in 3 weeks but I think one of the hardest things was the battering that was taken on my hands and arms not use to that constant off road shock absorption! I got into some solid hill reps and in my last week before heading off did 10 reps up Mt Iron!
The World Xterra Champs starts on the DT Flemming beach in Kapalua with a beach start into a rough shore break, the Pro men and women started together and it was initially hard swimming with guys trying to sit on your hip (and even harder to get rid of them) but I was happy to get around the buoys without a battering (a pleasant change) so maybe being a girl amongst a combined pro start is good for one thing! But then there were some fast men swimmers who set a good pace to string the field out. Flora Duffy (BER) over took me on the third leg of the swim as my group went a bit off course in the swells and waves on the way back into the beach but I reclaimed the lead from about 1km into the bike with a quick transition as I got into my work up the hills.

Not sure they could have put in any more hills if they tried but going up was never a problem for me it was the down I was concerned about.. The bike course was a solid grind to the top with a mixture of single track climbing, fire break roads, sugar cane fields and general off road (not even sure there was a track there before!), After a solid 25mins of climbing (from sea level to 500m altitude!) there was a short descent then into the second of the climbs, before a long downhill section then back into the woods to finish with 5 miles of very undulating (horrible) slow single track all the way back to T2 – nothing like the berms at Deans Bank in Wanaka! It was certainly a tough mountain bike and one of the hardest triathlons - I have ever done but still an amazing bucket list event!
I must admit my Giant XTC advanced 29er was amazing on the climbs, I caught Flora pretty quickly but was always aware Lesley would be chasing hard. I had 2mins on them at the top of the first climb and then 3mins at the 13mile mark where Barb Riveros had joined their group but managed to get through the single track and hit T2 still 2min 45 up.
I went into this race relatively unsure how I would go but still with the goal of a top 3 finish. I thought if I came off the bike in touch or in front I had a chance of winning this race, but I still had in the back of my mind that I only had those 3 weeks training on the mountain bike so I wasn't sure how I would hold up against the others..
I headed out of T2 with 2-3 minutes on field, the run heads straight up the same track as the MTB start (straight uphill!) I thought we would all be running up to the lake (the top of the hill about 25mins into the run) about the same speed so once I got there and still had 2.30 minutes on the next girls I knew I just had to get to the finish line in one piece and it would be mine.
I wasn't at all sure I had it in the bag until the last couple of km's though because I kept cramping in my hamstrings and having that problem along with jumping obstacles (yep we jumped over fallen trees) and steep descents it was challenging to say the least! I was very happy to get to that finish line and to be greeted by my support crew of my husband, parents and Aunty and Uncle (It was actually my Aunty that got me signed up in the first place as she wanted an excuse to have a holiday in Hawaii!) to enjoy the post-race celebrations.
The Xterra crew put on an amazing event in a truly amazing location for a huge field of pros and age groupers, the support, coverage and hospitality was amazing!
A big thanks to Giant NZ and Racers Edge Bike in Wanaka for sorting me out on the TXC Advanced 29er hard tail – I highly recommend this bike to anyone! It's so light, stiff and responsive - perfect for this race and big thanks Hazen and Nick at Racers Edge bike for all your advice on tires and pedals and all things MTB biking that I had to quickly learn! It was a crash course this last 3 weeks but a lot of fun at the same time.
Right now I am heading to Brisbane (via NZ) then on to Noosa so I've got a bit of travelling to do then one more race (the Noosa 5150) and it's time for a well-earned break!
Thanks for all those kind pre and post-race messages, it truly is unbelievable how many are coming through – I really appreciate it. I look forward to catching up with you all up on my break back in NZ, but for now Aussie here we come! After the race it's time reward myself with no training and some quality beach time on the sunshine coast with friends and family – can't wait!
Thanks to all my sponsors, supporters, friends and family – you all rock!
Until next week, cheers Nicky.
Until next time!
Nicky
Thanks & credit to Xterra triathlon / Nils Nilsen for the photos!
Posted: Mon 13 Jan 2014