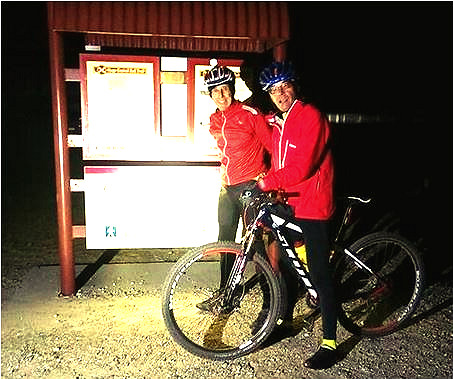 More from on the Trail ... of the Hospice Fundraiser
Lindsay's challenge to help others
Lindsay took on the Challenge of the Midnight Express for Otago Hospice fundraising event about a week ago - a 160km ride on the Central Otago Rail trail, not just to achieve another milestone in his sporting career, but also to support the Hospice.
During the week preceding the race, Lindsay agreed to team up with mountain biker Peter Jackson (similar age group and pictured above) to ride together and see if they could finish the full trail in 7 hours before the clock struck midnight, bearing in mind that a portion of this would have to be done in the dark. Lindsay continues ....
Our good friends and clients in Clyde, Bike it Now!, offered me a bike with a bit more riding comfort. They even delivered it for me and all I had to do was put my pedals and lights on.
"Hospice fundraiser raises over $53K"
46 riders were at the start line when the organiser announced that we had collectively raised $53k and donations were still continuing. Mayor Cull made a quick get away and he and his companion were well up to Hyde before we started, so off we went with some black clouds in the sky, some snow at the Rock & Pillar station, but at least we had the sun behind us.
Once we were on our way, our body temperature went up and things became more comfortable. With support from family and friends, we were through Hyde, Daisy Bank and Waipiata, but the Southwester hit us at Kokonga. However, we kept telling stories about previous adventures and time passed quickly. As we passed Waipiata, our first and only champions turned up from behind – Anthony and Tim Chapman.
Anthony arrived fresh from riding the UCI 5 day cycle classic around Palmerston North. We made Ranfurly in good time, about 2 hours, and support came from Sue and Judith, who were quite surprised that we were ahead of time.
We had some food, drinks and with extra clothing and were away again. It was a long drag to Wedderburn and even thinking about my mate, Graham Sydney and Wedderburn Station didn't help. However, once we were over the hill and into Idaburn, Anthony and Tim gave us a real buzz heading downhill and along the flat at real speed around 45km/hr. Oturehua was the next stop and no Brian Turner to check us in (he helped me into the cycling game).
We then rode across the plains and it was time I did a bit extra so I time trialled across to Auripo (in hindsight I went a bit fast). Peter then lead me through the tunnels, lights on and heading to Lauder. The Chapman boys were well in front and actually having a quiet 'couple' in Lauder pub. We had more food, some more clothing – I needed to borrow extra leggings from Peter, a hot coffee thanks to the girls and Hazel's chicken bun.
Our night lights made the track really easy to conquer, except when crossing narrow bridges and s-bends, where my balance was not so good. Sharing the road and working hard, had us past Chatto Creek and some local paintings, as we made it into Alexandra. The site of the house on Bridge Hill lifted our spirits. Peter's support team and Sue and Judith were there to meet us, where we officially signed off.
We then headed off to Clyde (a few extra kms) to complete and confirm that we had done the full trail track. We took the above photo and then headed off to Bike it Now's accommodation for shower and some well-deserved sleep.
A job well done by all involved including organisers, sponsors, supporters, donees and the racers themselves.
Posted: Mon 23 Feb 2015