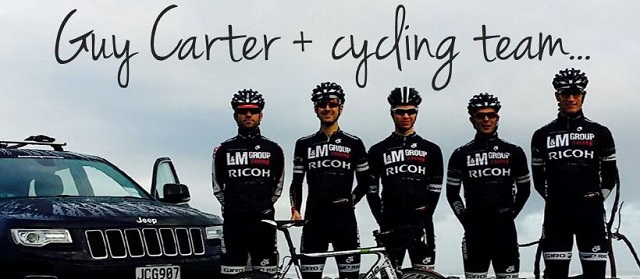 Guy Carter Selected for NZ Elite Cycling Team
Giving into his competitive streak was perhaps one of the best moves Impact Consulting and Accounting team member Guy Carter has made.
On top of recently completing his qualification requirements as a Chartered Accountant, Guy has committed to pushing his cycling career into another gear - recently being selected as part of the L&M Group Ricoh Team.
---
Update From Guy:
About the Team...
The L&M Group Ricoh New Zealand Elite Cycling Team is a NZ based team but competing across the globe.  The team and all that exists to facilitate it is collectively known as the NZ Cycling Project.  The aim is to build a professional cycling team, have fun doing the sport we love and introduce New Zealand's cycling talent to the higher echelons of world cycling.
The team exists thanks to the generosity of our sponsors L&M Group New Zealand, Ricoh New Zealand, Champion Systems New Zealand, Cannondale, Giro, Creation Signs and Central Bicycle Studio.
Races and Highlights to Date...
Some of the races I have been in this year include: The New Zealand Cycle Classic – an annual sporting fixture for the past twenty eight years and recognised as the premier international road cycling tour event in New Zealand.
The first three races of the 2015 Calder Stewart Cycling Series showcases some of New Zealand's best riders and teams going head to head over a six race series. Full time career cyclists and age group riders are given the chance to compete against the country's top based domestic cyclists. In the 2nd race our team finished 1st overall in the team's classification section, this being a highlight so far.
I am also lucky enough to be a sponsored rider of the Cycleworld team here in Dunedin, who make sure all my gear is in racing condition and provide the best expert advice with anything to do with bikes, racing and training.
Looking Forward...
Looking forward I am planning to do the Tour of Southland, and the rest of the elite series races. 
"I love sport and I love competition. 

For me having a goal is about as important as the activity itself… The reality is, if you want to get to the top in any field it takes hard work, but you also have to measure your progress in order to keep yourself motivated and moving forward.

This is just as true in business as it is in sport."

Guy Carter (Chartered Accountant)
Posted: Tue 09 Jun 2015