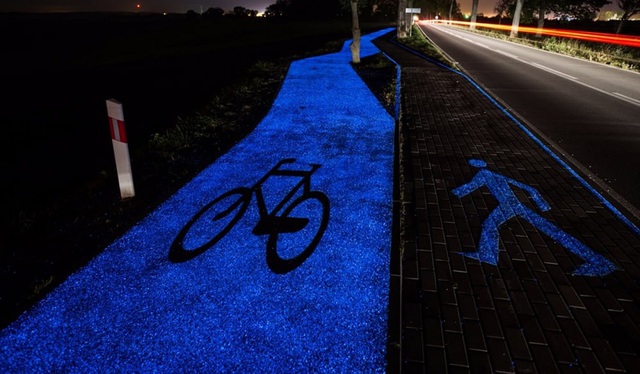 Glow in the dark cycle path improves safety
Innovators in Poland are road testing a phosphorescent blue bike path which can glow for up to 8hrs after only 30-60min of daylight.
Polish materials tech company TPA Gesellschaft für Qualitätssicherung und Innovation (TPAQI) designed a new road surface material that glows in the dark. Needing 30 to 60 minutes of daylight to fully charge, the phosphorescent blue bike path is being trialled in Lidzbark Warminski, Poland.
The design team applied the new material to an existing bike path and expects it to work for up to 20 years. A strong glow is retained for up to eight hours following only minimal daylight. The company is observing the path's durability before expanding its use elsewhere in the country.
Website: www.tpaqi.com
Source: Springwise.com
Posted: Tue 18 Oct 2016