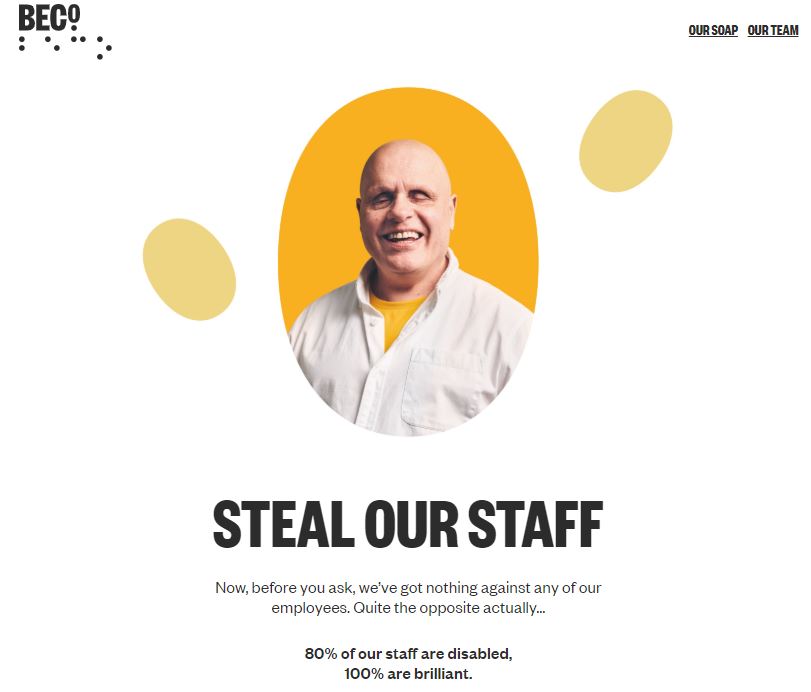 UK Social Enterprise Encourages Staff Poaching
Our Impact Consulting Team have a strong interest in positive community development, environmental and social impact. This innovative social enterprise campaign caught our eye.
UK based social enterprise Beco, who make 'better considered' household cleaning products, is hoping to raise awareness of disabled workers with an ad campaign urging competitors to steal their staff.
The social enterprise makes environmentally-friendly toiletries and have an inclusive workforce, which features 80% visually impaired, disabled or disadvantaged staff. With this innovative campaign they are hoping to increase their social impact for the approximately 1.1 million disabled people who are struggling to find work.
Their short advert is well worth a watch. Perhaps it will spark ideas for your own business or organisation.
Website: betterconsidered.org/
Advert: https://vimeo.com/357323692
Posted: Tue 17 Sep 2019