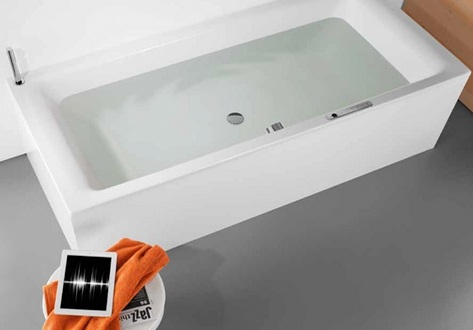 Acoustic bath tub turns the ordinary into a unique experience
Water and electronics are usually a bad mix, but we have seen a few innovations that combine the two in the past. Now German company Kaldewei has developed the SOUND WAVE bathtub, which connects to music sources to act as a large speaker, soothing users with the vibrations.
The system consists of several flat speaker panels that are fitted onto the outside of any steel enamel bath, essentially turning the hollow bathtub into a speaker cone. The SOUND WAVE is Bluetooth-enabled, which allows users to choose the music they want to play from any smartphone or tablet device. As well as surrounding users with the music of their choice — which is amplified by the water — the bath also vibrates according to the soundwaves, providing bathers with a soothing massage. The SOUND WAVE could help users to feel as well as hear the rumble of ocean waves, for example. The video above explains more about the concept.
The SOUND WAVE is currently on sale exclusively at John Lewis' Oxford Street store in London for GBP 587. Are there other ways electronic systems could be combined safely with water-based environments?
Website: www.kaldewei.us
Source: Springwise.com
Posted: Mon 13 Jan 2014